7D5N JEWELS OF BHUTAN
Bhutan offers a range of cultural and adventure tourism activities. Visitors can explore ancient Buddhist monasteries, attend colourful festivals, and visit traditional Bhutanese villages. The country also offers opportunities for trekking, hiking, and rafting in its pristine forests and glacial rivers. Bhutan practices a high-value, low-volume tourism policy, meaning that the country seeks to attract a limited number of visitors who are willing to pay a premium to experience Bhutan's unique culture and natural beauty.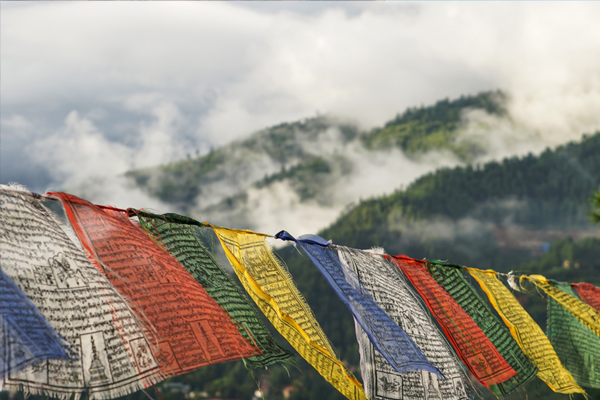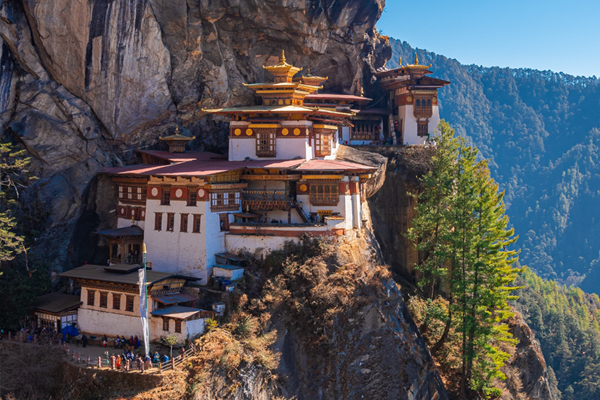 ---
---
Itinerary:
Day 01: Singapore – Paro
Assemble at Changi Airport for your flight to Paro. Upon arrival, be met and enjoy a local welcome from Bhutanese representatives with Khada. Here, you will visit Rinpung Dzong, built in 1644 to defend the valley against Tibetan invaders and next is to Kyichu Lhakhang Temple, the oldest monastery in Bhutan built in the 7th century. Here, you can see how Bhutanese farmers lived and get a chance to Taste local rice wine known as Ara, a traditional alcoholic beverage made from native high-altitude tolerant barley, rice, or wheat. This evening, enjoy an interactive session and learn from the locals on how to make their famous chili cheese dish in a DIY ema datshi session, a local chili cheese dish and get to sample this exquisite taste.
Zhiwa Ling Heritage or similar class
Day 02: Paro
Take an early breakfast and embark on a hike to Bhutan's most iconic landmark, Taktsang Lhakhang, also known as Tiger's Nest Monastery. It clings precariously to a granite cliff 900 metres above Paro Valley. The monastery was first built in 1692 at a cave where legend has it that the great Guru Rimpoche flew to the site atop the back of a tigress and meditated in the cave in order to subdue evil demons residing within. You may wish to take a pony ride at your own expense. Make a photo stop at Drugyel Dzong, the victory fortress built in 1647 by Zhabdrung Ngawang Namgyal to commemorate his victory over Tibetan invaders led by Mongolian warlord Gushri Khan in 1644. Wrap up your day with a Gho and Kira traditional dress-up session and flood your social media page endless feed of that cultural perfect-picture you.
Note: Please wear comfortable walking shoes for your hike to Taktsang Lhakhang. The hike is not recommended for pregnant women and travelers with health conditions.
Zhiwa Ling Heritage or similar class
Day 03: Paro / Punakha
After breakfast, head to Punakha. Along the way, cross Dochula Pass and proceed to Druk Wangyal Chortens, where the construction of 108 chortens was commissioned by the eldest Queen Mother. Next, take a light hike through fields of assorted vegetables that will take you to Chimi Lhakhang, a pilgrimage site for childless couples. Here, you will enjoy a river side picnic lunch specially arrange Camera ready as we proceed on to Punakha Dzong, situated at the confluence of the Mo Chhu and Pho Chhu rivers. An iconic and Instagram able site. Thereafter, you may like to attend a religious blessing service. Keep that snapping fingers at the Punakha Suspension Bridge, one of the longest suspension bridges in Bhutan, before staying overnight in your hotel.
Dhensa boutique Resort or similar class
Day 04: Punakha / Gangtey / Thimphu
Today, head into the country side towards Gangtey Gonpa, the largest Nyingma monastery in Bhutan. Then, make your way towards the Phobjikha Valley, a wide glacial valley with a central stream that meanders through thickets of dwarf bamboo. The forest beyond the farms is mostly coniferous, and the general vegetation is composed of blue pine, birch, maple and several species of rhododendron. Home to the migratory black-necked crane, the valley is one of the most beautiful spots in Bhutan. Spot these rare, gorgeous cranes during the months of late October to February as they leave the Tibetan Plateau and pass the Himalayan peaks to reach their winter grounds. Make a stop at the Black-Necked Crane Visitor Centre to learn more about the cranes. Thereafter, enjoy a picturesque ride to Thimphu for your overnight stay.
Six Senses Thimphu or similar class
Day 05: Thimphu
This morning, visit Kuenselphodrang Nature Park, where you can catch a panoramic view of Thimphu Valley and marvel at the 169-foot-tall bronze Buddha Dordenma Statue, the largest statue in the country. Next, explore National Memorial Chorten, a stupa built to honour the late 3rd king, before heading over to Motithang Takin Preserve, where you can observe strangle, gentle beasts resembling goat-cow hybrids – Takin – roam within this patch of forest. See art and craft students at work on thangkas painting, woodcarving, exquisite embroidery or clay statue-making (clay) at National Institute for Zorig Chusum and commonly known as 'the painting school'. Next, visit Simply Bhutan, a living museum whose primary aim is to conserve the culture and customs of traditional Bhutanese life. Try out archery, the Bhutanese National Sport. After lunch, stop over at Jungshi Handmade Paper Factory, a pilot conservative program to preserve their traditional handmade paper making. You can observe the entire process of producing handmade paper using ancient traditional methods that have been practiced for generations. Amble through an authentic Bhutanese crafts bazaar and the bustling Norzin Lam, where you can purchase handicrafts, garments and accessories at your own expense. End the day with a Buffet dinner and Local Cultural dance performance.
Six Senses Thimphu or similar class
Day 06: Thimphu / Paro – Singapore
Bid fare to the happiest on earth as you check out and proceed to Paro for your flight back home. On the way, make more memories as we cross the Tachogang Lhakhang Bridge. an iron chain bridge built by Drupthob Thangtong Gyalpo and is the access route to the famous Tachogang Lhakhang Dzong. Finish up your dollars at Paro Town Market for last minute shopping.
Day 07: Singapore
Arrival Singapore
---
This itinerary and its package inclusions might be changed later in time, subject to availability.